…or maybe not…
Librarians need to know about authoritative sources of information. Librarians need to teach other people how to evaluate the reliability of resources.
Nothing new there.
What is new is how widely distributed the sources can be and how important context can be to their authoritativeness – and how much librarians need to understand about these new contexts.
Three examples of the need to understand context crossed my desktop this week.
EXAMPLE ONE: Twitter is evil
Swine flu: Twitter's power to misinform .  Evgeny Morozov, Foreign Policy, net.effect. 25/04/09. In Evgeny Morozov's opinion Twitter is noisy and full of misinformation about Swine Flu and likely to scare people who will encourage others to panic.
I can't quote the article due to possible copyright restrictions.
Instead, here's a cartoon from xkcd, Swine Flu .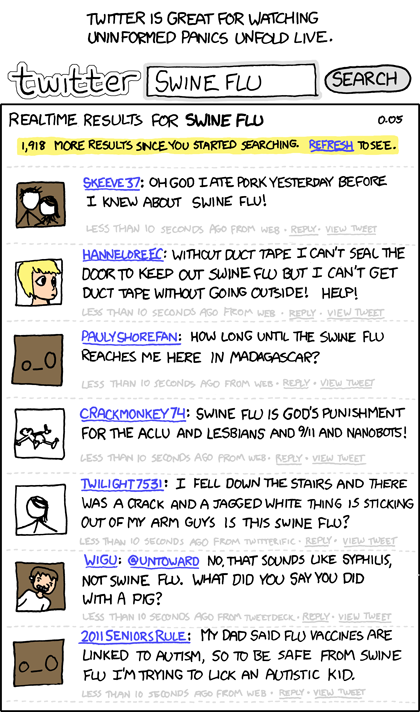 EXAMPLE TWO: Elsevier is evil.
Elsevier published fake medical journals: Elsevier published six 'fake' Australian medical journals on behalf of pharma companies Kate McDonald, Australian Life Scientist, 08/05/2009 .  The Australasian Journal of [insert term here] will no longer be taken quite so seriously now that Elsevier has revealed that the Australasian Journal of Bone and Joint Medicine was actually funded by pharmaceutical company Merck, contained only reprints or summaries of articles from other Elsevier journals that contained positive references to two of the company's products and only had advertisements for the same two products.
I can't quote the article due to possible copyright restrictions.
Instead, here is a link to a great conversation  from a mob of librarians on Friendfeed.It starts with a comment from Steve Lawson and continues with over eighty comments that range over the deficits of academic journals in general, I think the LSW needs to get Elsevier to publish the Australasian Journal of Library Science.
Oh, and a cartoon from Organisation Monkey, Australasian Journal of Bone and Joint Medicine
EXAMPLE THREE – Wikipedia is evil
Student's Wikipedia hoax quote used worldwide in newspaper obituaries Genevieve Carbery , Irish Times, 06/05/09.  When composer Maurice Jarre died at the end of March 2009, newspapers around the world carried a beautiful quote from him: ""One could say my life itself has been one long soundtrack. Music was my life, music brought me to life, and music is how I will be remembered long after I leave this life. When I die there will be a final waltz playing in my head, that only I can hear,"". The source? Wikipedia. The problem? A 22 year old student had placed the quote in Jarre's Wikipedia page the night of Jarre's death, and kept adding it even though Wikipedia's editors deleted it several times.
I can't quote the article due to possible copyright restrictions.
Instead, here is a quote from the discussion page for the Wikipedia entry for Maurice Jarre: " Although I may agree it's something of a rude experiment have a bit of proportion. This is not equivalent to getting someone arrested or poisoning their Tylenol. It's more like doodling on a library book or at most streaking at the Oscars.–T. Anthony (talk) 05:38, 8 May 2009 (UTC) "

What conclusions can we draw from these articles?
1. Twitter, Elsevier and Wikipedia should be legally stopped before they can do any more damage?
2. There is no context in which Twitter, Elsevier and Wikipedia will be a reliable or useful information source?
3. Librarians don't need understand the many different ways  Twitter can be used, the funding patterns of academic journals nor how references are quality controlled in Wikipedia?
Nope. Librarians need to understand how information on Twitter, in academic journals and Wikipedia  is created, distributed, re-used, re-purposed and the criteria for sensible evaluation.
Similar Posts: